We, at the Hintalovon Foundation have been working to raise awareness on children's rights since 2015. Our aim is to ensure that adults take into account the views and the interest of children in all areas of life. Our goal is to make Hungary a better place for children, where it is good to grow up as a child. We would like families, schools, sports associations, hospitals, teachers, decision-makers, politicians, and the society as a whole to pay attention to children. We would like everyone to understand how important a good childhood is and that each and every child matters.

We believe that child rights are the key to a better future, where children are able to take care of each other and themselves, and adults pay much more attention to children's needs.

The foundation was established by Szilvia Gyurkó in 2015. The programmes of the foundation include the following: Child Rights Pro Bono Clearinghouse, providing free legal aid services; Child Participation programme, which aims to develop and implement meaningful ways of child participation; and the NEMECSEK Programme for the safety of children at schools, in sport and in other environments. Hintalovon also maintain the yelon.hu website for healthy development and sexual education of children;
The foundation publishes the Child rights report annually (2016-), presenting the current situation of children's rights in Hungary.

The mission of the foundation is to enforce and support the rights of children living in Hungary. Our aim is to ensure that adults pursue and take responsibility as widely as possible for the balanced development of children. Our work is supported by professionals who have been working with children for many years and successfully apply the child rights approach advocated by the foundation.

Our goal is to make Hungary a better place for children. We work to protect children from violence, to ensure their access to education and to make sure that their opinions and interests matter, so they can become who they want to be.
Hintalovon Child Rights Foundation's priority areas of work:
Protecting children from violence
The best interest of children
The right of children to participate in all matters affecting them (child participation)
Our team is made up of fantastic professionals including staff members, associates, consultants, and volunteers. In the beginning, back in 2015, there were six of us at the foundation and we all worked as volunteers. Later, our core team having increased to seven staff members was supported by more than fifty volunteers. By the end of 2017, the Hintalovon team included 89 members. In 2020, in addition to our 10-person staff, we can count on 110 volunteers, including lawyers, economists, psychologists, journalists, social workers, teachers, lawyers, social workers, pensioners, yoga teachers, as well as our young advisers, the high school Child Rights Ambassadors.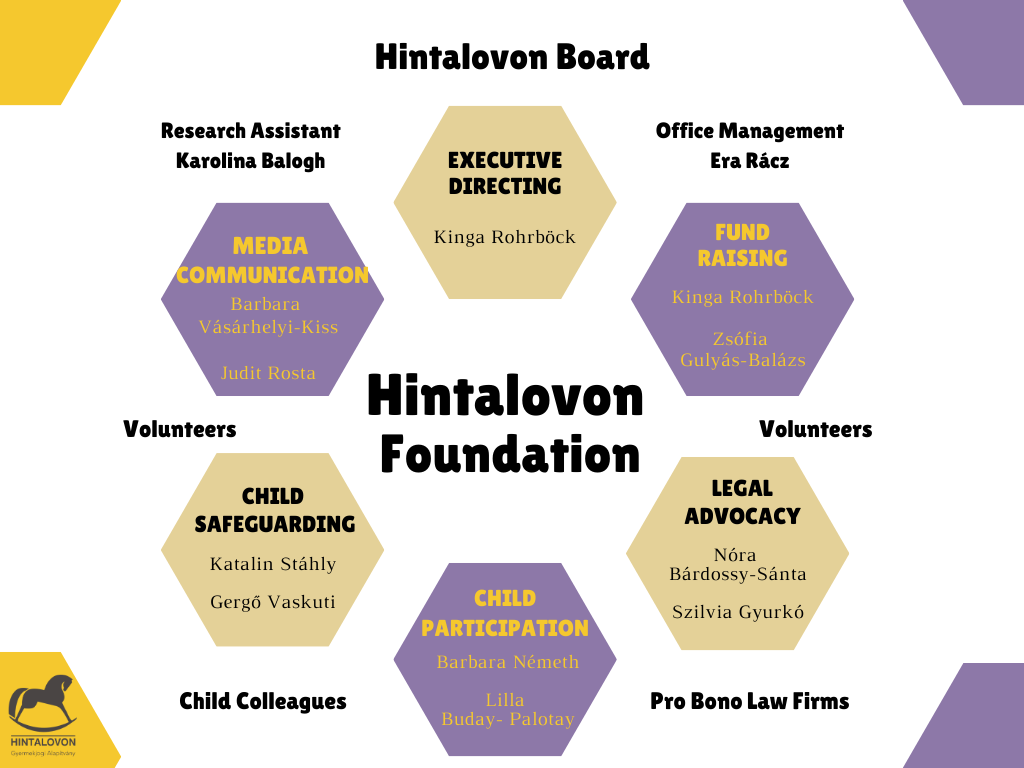 We are diverse, but we have one thing in common: we believe that children's rights are a philosophy.